Each year I usually tackle one side project that takes me off the beaten path of my typical work-for-hire jobs. This is how the Goodie Monster was born, I manned a lemonade stand in Copenhagen, and made a fuzzy printed poster about moose falling in love. This year, I painted a piano. It is now out in the world for anybody to play thanks to the group Piano! Push Play!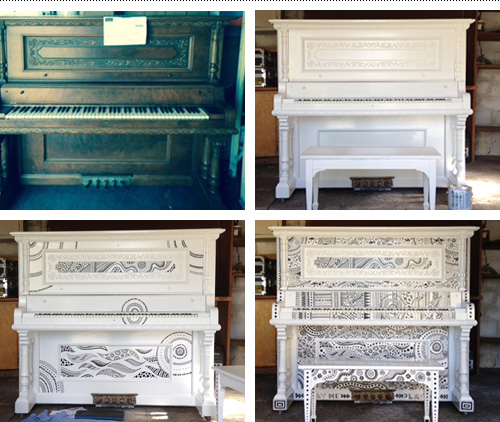 Piano! Push Play! partnered with the Portland Art Museum and Portland Parks & Rec to create an installation of 10 designer pianos, which were featured in a concert on June 26th at the Museum. From there, the pianos move to various sidewalk and park locations to be played by passers-by for a few weeks before they are donated to schools, community centers and other organizations unable to purchase pianos on their own.
For my piano design, a glossy white enamel paint coat topped with black illustration was a simple way to stay true to the piano's form and accentuate the features of the instrument as an individual. Patterning and texture were used to mimic the variety and nuance that pianos are capable of and to show the feeling of how it is when you play.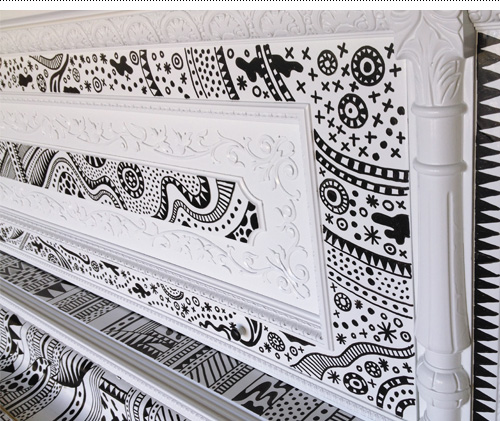 One aspect that was unexpected was the ornate wood carving on much of the piano. After receiving my charge I had to make a fairly quick decision on how to combine the carving with my basic idea of a design (black illustration on white). I chose to leave all carved details completely white to accentuate their shapes with shadow, and not overdo the slightly OCD style of illustration on the rest of the flat panels.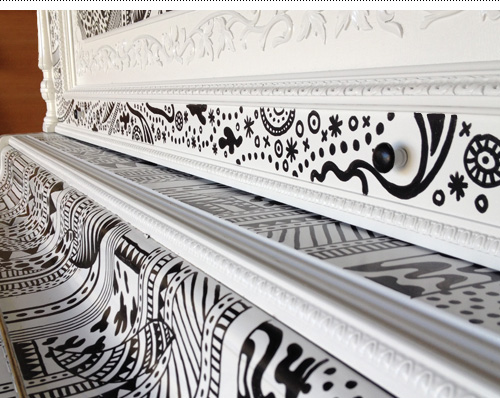 Creating an illustration of this scale was a first, and due to some timeline constraints I had minimal time for testing which forced me to pretty much freehand the entire thing. I became comfortable with this way of working about halfway through the project, which took me about 5 days to complete.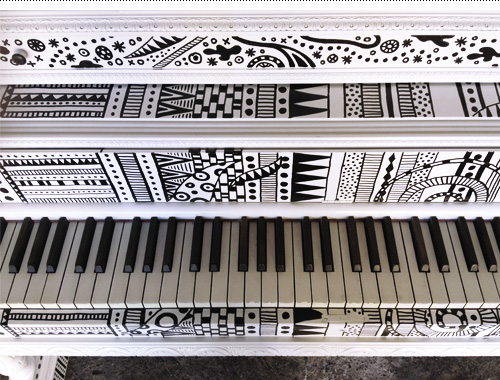 The concert at the Museum was a great way to end the project and see the finished collaboration in action. It included performances from Loch Lomond, Jessica Susanto, Sara Jackson-Holman, Theresa Silveyra, Jedadiah Bernards, Mitchell Falconer, Maria Karlin, Megan Diana McGeorge, Becca Schultz, and Maria Choban. Pianos were designed by Roundhouse, Open Eye Art, Ryan Bubnis, Splash Worldwide, Awesome Portland, NORTH, Struck, Lucid Design, Doug Fir, and ADX. The entire line-up of pianos are featured here.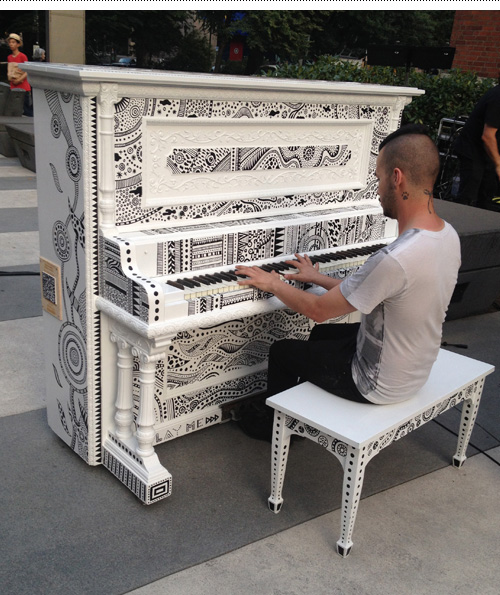 Currently, the piano is at Cathedral Park in North Portland until July 14th. After that it will move to another park. It has already gotten a little bit of love from John David Van Beek and his girlfriend, who took some time to play together for friends. You can check on any of the pianos locations on the Piano! Push Play! website or via their app.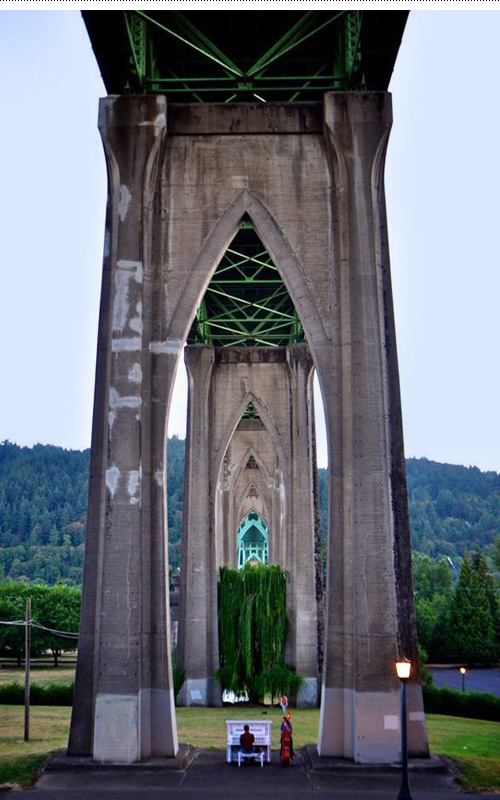 Thanks to: Burt Ruvensky for applying the white base coat, my neighbors Josh & Jess for letting me work in their garage, the neighborhood kids who monitored my progress on their many trike rides past the garage and gave me creative feedback like "why aren't there any rectangles?", and my parents who made me take piano lessons as a child.
Out and About
• A short blurb on KGW about the pianos.
• Amelie meets Scarlatti video.
• The piano's rendition of Summertime.
• Photos showing up on Instagram's #cathedralpark tag.