Walking around Nørrebro in Copenhagen there are many Asian shops, all of which boast a brigade of little waving cat figurines – also known as Maneki-neko. They seem so omnipresent that I suspect they are part of a Secret Danish Surveillance System – one that makes sure you only cross the street on green and pay your taxes promptly.
These felines are the exact opposite of everything "Danish Design" is reported to be, and if I had to name a Danish counterpart to a Maneki-neko it would be Kay Bojesen's teak monkey (nearly every Danish home has one).
I like unlikely pairings – or perhaps my subconscious does – because one day as I walked past yet another window full of friendly cats, I pictured them painted with the Royal Copenhagen pattern, the quintessential floral design used on the most famous of Danish porcelain. And my brain doesn't stop once it has had such an idea, so I had to make it real.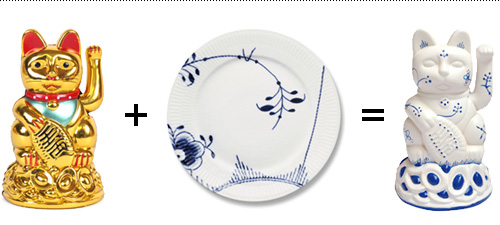 Continue reading "Royal Copenhagen Cat" →