The Portland letterpress community participated in an print exchange in conjunction with Josh Kornbluth's "Ben Franklin: Unplugged" show at Portland Center Stage. The broadside exhibit "Power of the Press" featured posters inspired by the character and spirit of Ben Franklin and Poor Richard's Almanack. My contribution was an interpretation of proverbs entitled "Opposites Attract".
"Opposites Attract" is type-driven mash-up of some of the Almanack's most commonly recognized proverbs and math symbols, drawing inspiration from Franklin's interest in both the literary and scientific fields. Proverbs revisited…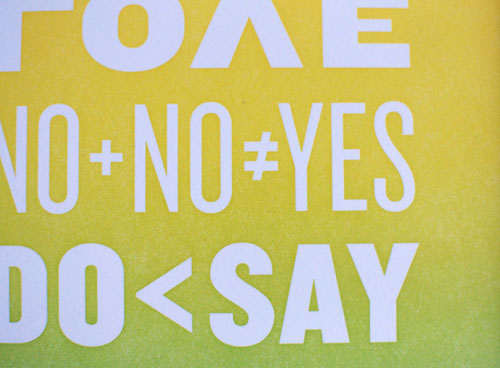 Wikipedia and other sources tell us that Poor Richard's Almanack was a yearly publication put out by Benjamin Franklin, who adopted the pseudonym of "Poor Richard" or "Richard Saunders" for this purpose. The publication appeared continually from 1732 to 1758. It was a best seller for a pamphlet published in the American colonies; print runs reached 10,000 per year.
Poor Richard's Almanack was notable for its extensive use of wordplay, with many examples derived from the work surviving in the contemporary American vernacular. Franklin also included the occasional mathematical exercise, and the Almanack from 1750 features an early example of demographics. It is chiefly remembered, however, for being a repository of Franklin's aphorisms and proverbs, many of which live on in American English. These maxims typically counsel thrift and courtesy, with a dash of cynicism.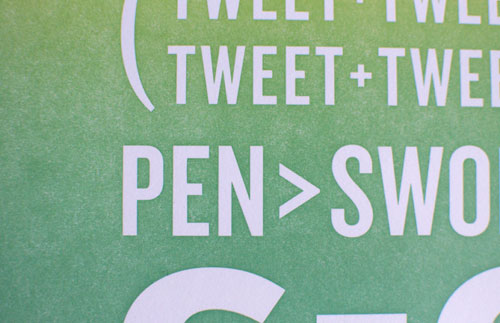 The poster was printed on a Universal III at Em Space with a single polymer plate and two hand-mixed inks. Because of the heavy ink coverage the split fountain, or rainbow roll, had to be re-inked every 15 prints or so. The paper is some sample Cougar stock I had on hand. The poster size is 12×18 with an image area of 8.5×15.5. All text is set in the wonderfully versatile font Knockout.