Update June 4, 2012: The next steps for the Goodie Monster are to find a home in a Portland area school, to make an impact at a local level directly with kids by providing a framework for eating healthily. Check out the Goodie Monster on Facebook, or contact Mark Jacobs for more information at mark@goodiemonster.com.
—
My idea-partner Mark and I are currently fundraising money to make more Goodie Monsters, so we are offering rewards for people who support the project. This reward is a PDF snack sheet with the Goodie Monster's path to snacking, some tips, a kale chip recipe, and info about snacks from around the world. Personally I don't go a single hour without thinking about what my next snack is going to be. To back the effort, check out the campaign on Kickstarter.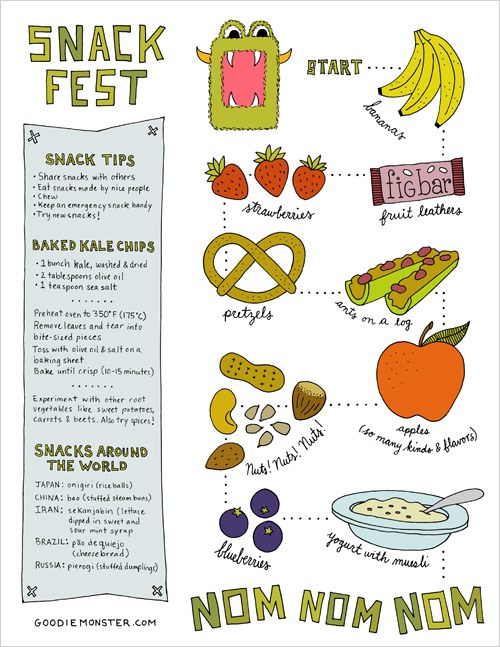 Baked Kale Chips
Ingredients
1 bunch kale, washed and dried
2 tablespoons olive oil
1 teaspoon sea salt
Instructions
Preheat oven to 350 degrees F (175 degrees C)
Remove leaves and tear into bite-size pieces
Toss with olive oil and salt on baking sheet
Bake until crisp (10 to 15 minutes)
You can also experiment with other root veggies like sweet potatoes, carrots, or beets, and sprinkle on your own spices.