Last night fifty competitors raced in the Stumptown 40 pinewood derby car competition, and me and my pioneer rabbit were right in the thick of it.
It was a night of competition, camaraderie and old fashioned fun. Seeing the different car designs, from a classic racer to a gumby-shaped car, was a spectacular study in homegrown aesthetics. My friends Laura and Scott made cars that looked like a pantone swatchbook and a wedge of cheese, respectively.
I gave my car the moniker Danish Dynamite, from the chant "We are red, we are white, we are Danish dynamite!". My sister and I were the only two people at Spirit of 77 who knew the chant, so it was a small cheering section indeed. My entry fared well initially, but was finally ousted in the consolation bracket by a car shaped like a bottle of ketchup. Ahh, well, you can't beat the condiments.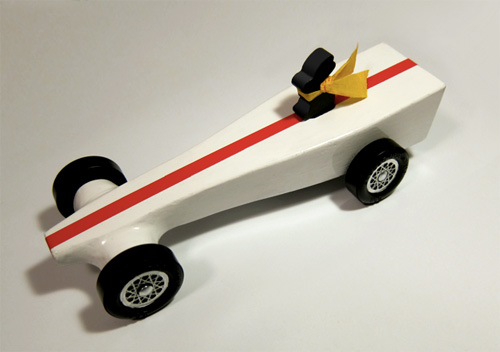 See all of my pioneer rabbit's adventures: yes, please
See my outfit that day: why not!