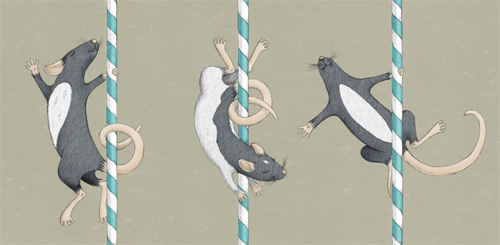 Free Wallpaper Week at the Bureau is wrapping up. Today's wallpaper features Rascal, Ratty and Rufus – three very talented pole dancing rats. Inspired by the pet rats I had as a child and some party straws that a friend gave me, this one doesn't make much sense. But it's fun to look at. You're welcome, Santa, now bring me that dobro I wished for!
Download "Pole Rats" in the following sizes:
320 x 480 (iphone) •  640 x 960 (iphone4) •  1024 x 1024 (ipad)
1440 x 900 (laptop) •  1600×1200 (full screen) •  2560×1600 (wide screen)
Please share these wallpapers following the guidelines of the Creative Commons "Attribution Non-Commercial No Derivatives" license. Basically, you can share the heck out of these, but always remember to attribute the source and please don't alter or sell the art. Thanks!