When somebody calls you up and asks "Hey, want to draw a troll for money?", you say YES. That is the short version of how I was pulled into a project North was working on for local shoe company Keen – a series of videos offering suggestions for healthy outdoor activities. My role was to illustrate a hot spring scene for Feel Good Anyway, my downstairs neighbors in the Povey Building and moving-picture-makers extraordinaire.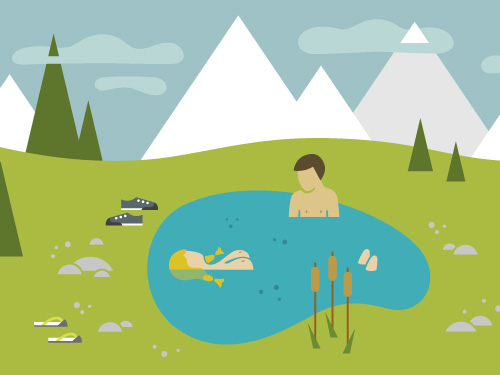 After some character sketches and a few tweaks back and forth, we arrived at this diagram. The guys at FGA were great at pulling out the best parts of my illustration and extrapolating on it. It was like they had a magic wand that they would wave at things to instantly make them cooler. Or a BOX of wands. They're that good. Or magic.

During this project I let it slip to a colleague that I was drawing a troll. On a bike. For money. He told me that was how I knew I was a made woman. RIGHT ON. To see the video Feel Good Anyway put together, check out Keen's Recess site.