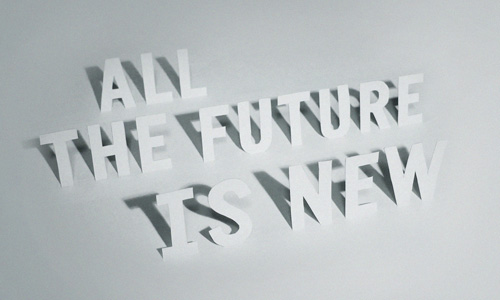 Today is the final day of Free Wallpaper Week at the Bureau. "All The Future Is New" was created from cut letters folded up from their original sheet of paper to make shadows. I hope you've enjoyed the freebies and spread the wallpaper cheer across the screens of the internet and eternity.
Download "All The Future Is New" in the following sizes:
320 x 480 (iphone) •  640 x 960 (iphone4) •  1024 x 1024 (ipad)
1440 x 900 (laptop) •  1600×1200 (full screen) •  2560×1600 (wide screen)
Please share these wallpapers following the guidelines of the Creative Commons "Attribution Non-Commercial No Derivatives" license. Basically, you can share the heck out of these, but always remember to attribute the source and please don't alter or sell the art. Thanks!