I've started a little thing called "Creative Night", where a small group of friends gather to eat dinner and work on a project of choice that they bring with them. It is a great way to get inspiration, block out time for social creativity, get feedback, and follow along on other's projects.
The theme for Creative Night #6 was 'still life'. I chose to draw the closest thing to my Micron pen: a small box of matches. I also directly translated the Danish text on the packaging, so now you know that Safety Turn-on Sticks are widely available in Denmark. How you choose to use them is up to you.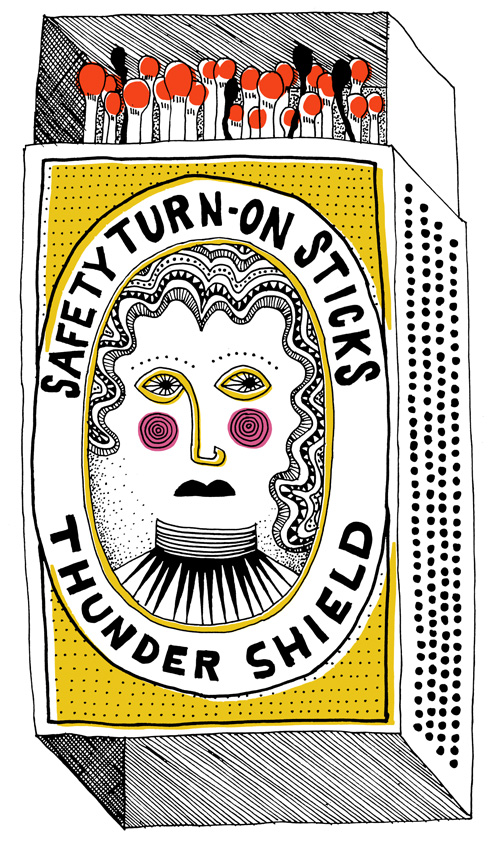 After staring at the mystery man on the box for an hour, I was curious who he was. Perhaps a Frederik or a Christian? Denmark's history has plenty of those, all who have various castles, squares and monuments in their memory. According to the company that produces the matches, Tordenskjold, the dashing man is Peter Jansen Wessel Tordenskjold. Also, did you know an Aspen tree can make up to 370.000 matchsticks?
Peter Jansen Wessel Tordenskjold? What a name! And the man lives up to it. Peter Jansen Wessel was born one of 18 children in Norway. He was a troublesome child and ended up running away from home by hitching a ride on Frederik IV's boat when he sailed home to Denmark. Once in Denmark he became a sea captain, defeated many a Norsk army, was bestowed the noble name "Tordenskjold", and found an untimely end at age 30 when he died in a sword duel against Jacob Axel Staël von Holstein. Apparently dueling is verboten for seamen, so he was buried quietly without fanfare. Until 1865, that is, when he became the leading face of matchsticks at the suggestion of a matchstick maker's wife. Ladies love a sailor…