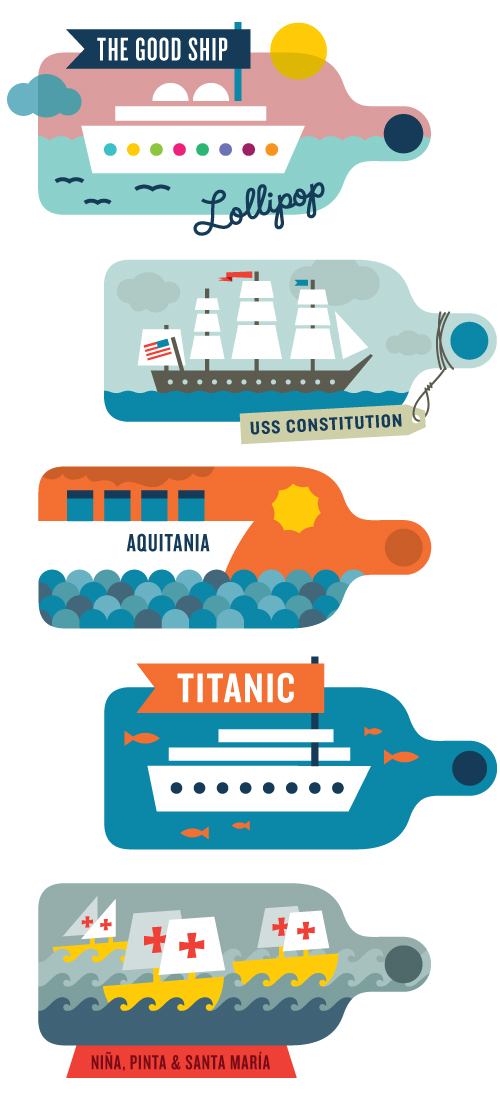 A few fun facts from around the internet about the Bureau's version of famous ships in bottles…
The Good Ship Lollipop
The "ship" in Good Ship Lollipop actually refers to an aircraft which was featured in the song sung by Shirley Temple that takes passengers to a land of candy – immortalized in a very beta music video.
USS Constitution
Nicknamed "Old Ironsides" for its indestructible build, the USS Constitution is the world's oldest naval vessel. In addition to spending time in battle, it has also been a training ship, museum, freighted artwork, and has sailed around the world. Pretty much an overachiever among watercraft.
RMS Aquitania
Known as "Ship Beautiful", she served in both World Wars in between being a passenger liner, and was the last of the 4-funnel (smokestack) liners.
The Titanic
Considered to be unsinkable, the Titanic managed only 2 hours and 40 minutes of sailing before its demise, taking over 1,500 passengers down with it. Iceberg: 1, Ship: 0.
The Niña, Pinta and Santa Maria
Used by Christopher Columbus in 1492 when he sailed the blue to the "New World", the Niña, Pinta and Santa Maria have been memorized by school children ever since. Santa Maria, the largest of the three ships, was 62 feet long and 18 feet wide and had seven crew members named Juan aboard. Pinta, the fastest ship, was a smaller caravel. Niña, who formal name was Santa Clara, avoided both destruction in a hurricane and capture by pirates.