Well Vegan is a brand the Bureau created in 2012 with founder Katie Koteen. Well Vegan makes it easier and cheaper to consistently follow a healthy, plant-based diet. Their shopping lists, meal plans and home-tested recipes make sure you'll have everything you need for each meal, without wasted food at the end of the week. Booyah!
When the site first launched we made a "hello, we're in this world" promo postcard featuring one of the brilliant ideas from their blog, Salad in a Jar. Not only is it cute, it's easy and healthy.
With summer coming up, it seemed like a perfect time for a follow-up postcard as a reminder of just how good smoothies can be (for you) – that's why we made the Mix & Match Smoothie Diagram for all of your summertime blending needs.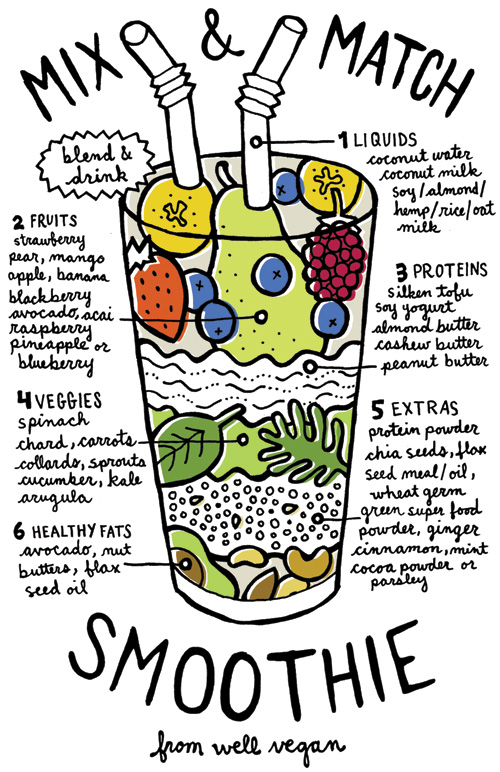 Visit the Well Vegan blog to for some smoothie recipes as well as smoothie time-saving and on-the-go tips. Below is just one of their recipes to get you started.
You can also get tasty updates from Well Vegan, including a summer full of smoothie recipes, via Twitter or Facebook.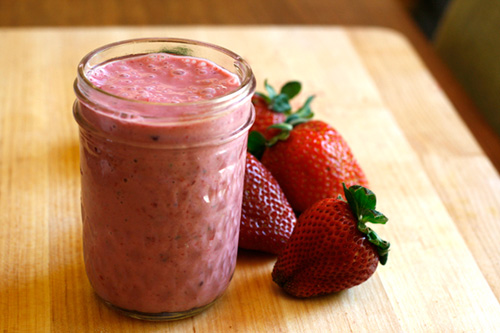 Strawberry Banana Tofu Smoothie
• 1/2 box silken tofu
• 1 cup sliced strawberries
• 2 medium bananas
• 1 cup non-dairy milk
• 1 teaspoon maple syrup
• 1/2 cup ice cubes